LASIK is an eye surgery technology which can correct nearsightedness, farsightedness and astigmatism. In the LASIK procedure, an eye surgeon (opthalmologist) uses a precisely controlled laser to reshape the cornea, changing its focusing power.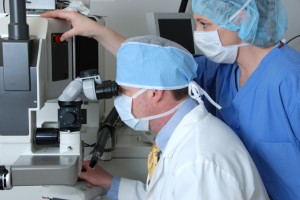 LASIK surgery has helped many people to be able to see clearly without glasses or contacts. However, it is not for everyone. If you are considering LASIK surgery, it is important to educate yourself on the potential risks as well as the benefits.  You should also make certain you do not have eye conditions which would put you at greater risk for LASIK surgery complications.
At Sudbury Eye Care, our physicians have extensive experience in medical management of pre-operative and post-operative LASIK surgical care. Dr. Labiento has managed over 1,000 LASIK patients in Manhattan's leading laser eye surgery clinic. As such, she is able to provide an accurate and impartial pre-LASIK screening and a frank discussion of the potential benefits and risks of eye surgery, to help you determine whether LASIK is right for you.
Should you decide to move forward with the surgery, Sudbury Eye Care works closely with leading surgeons in the area to achieve precise results. All post-surgery follow-up care can be provided at Sudbury Eye Care's facility at 344 Boston Post Road, Sudbury, MA.
For more information on LASIK, see these valuable resources:
What are the risks of LASIK surgery?