Your eyes are the most important sensory organ you own.  They deserve a thorough evaluation when you visit your optometrist, to keep you seeing, feeling, and looking your best.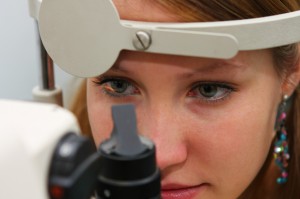 There is a big difference between just getting a glasses prescription and getting a comprehensive eye exam.  A comprehensive eye exam includes an evaluation of the eye muscles, neurological responses, vision, eye health, and a dilated eye exam.  It is essential for the early diagnosis and treatment of many conditions, both inside and outside of the eye.
The American Optometric Association (AOA) and the American Medical Association (AMA) recommend a dilated eye exam every 2 years for healthy individuals.  For people with diabetes, hypertension, and immune deficiency diseases, they recommend an annual exam.  Adults and children with new or changing eye glasses or contacts prescriptions should be evaluated every year as well.
Comprehensive eye exams are covered by most insurance programs.  If you haven't had a comprehensive eye exam recently, please contact us today.